Defending Inerrancy would like to announce a new publication by Dr. William C. Roach, co-editor at www.defendinginerrancy.com. The paperback version can be purchased at Amazon and Wipf & Stock. Kindle version can be purchased here.
Hermeneutics as Epistemology
by Dr. William C. Roach
Dr. Roach has recently released a book titled, Hermeneutics as Epistemology: A Critical Assessment of Carl F. H. Henry's Epistemological Approach to Hermeneutics. As many of you know, Dr. Carl F. H. Henry is considered to be the "dean" of American evangelicalism. Henry was chosen as the first editor of Christianity Today, selected among the founding faculty of Fuller Theological Seminary, and served as a professor at top evangelical institutions such as Trinity Evangelical Divinity School. Henry received highest praise from some of the most influential figures of the evangelical movement. Charles Colson once said, "When the history of the evangelical movement is finally written, Carl Henry will emerge as its dominant figure." Kenneth Kantzer remarked, "Carl Henry is the ablest defender of evangelical doctrine in the last half of the twentieth century. He stands firmly and boldly for the full-orbed Biblical and evangelical faith." Consequently, one must be prepared to engage Henry if they are going to understand rightly twentieth-century evangelical theology and hermeneutics.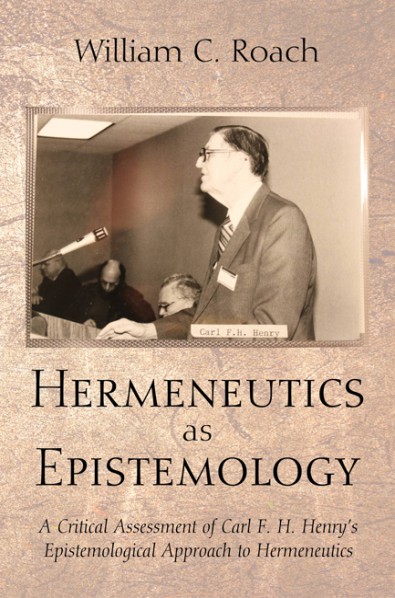 About The Book
Historic Protestantism and evangelicalism has always been committed to the authority of Scripture and interested in the proper interpretation of the Bible. They uphold the motto: As Scripture says, God says; and as God says, Scripture says. Many today claim this type of reasoning is faulty, since individuals can no longer know the true meaning of Scripture because there are no stable metaphysical or epistemological frameworks. Moreover, they claim that approaches, such as the one presented by Carl F. H. Henry, no longer provide adequate grounds to address the pressing hermeneutical issues.
This study responds to these types of claims showing each of these proposals is based upon faulty first principles or misrepresentations. This book surveys hermeneutical innovations and Henry's epistemological hermeneutic to show that Henry's epistemology is foundational to his hermeneutic, offering present-day evangelicals an epistemologically justified approach to hermeneutics as epistemology and methodology.
The book will be of importance to those with interest in evangelical hermeneutics or philosophical hermeneutics in general. It provides a clear assessment of the impact of Carl F. H. Henry's epistemology and hermeneutic, and strives to respond to criticisms raised against his Augustinian, Reformed, revelational, cognitive-propositional hermeneutic.
The paperback version of this new book can be purchased at Amazon and Wipf & Stock. Kindle version can be purchased here.
Endorsements and Reviews
"The decisive way to counter error in biblical understanding is to outflank it at the level of its own arbitrary first principles, and to set biblically based first principles in their place. Dr. Roach shows us very fully how Carl Henry did this, by setting current hermeneutical fashions in the corrective frame of an Augustinian, Bible-based, cognitive-propositional account of how God reveals, and how we receive, his word of truth. As Henry was masterful in doing this on the grand scale, so Roach is masterful in vindicating Henry against those who would critique or ignore him. This is a very valuable piece of work."
–J. I. Packer, Professor of Theology, Regent College and Co-founder of ICBI
"Carl F. H. Henry was a theological titan–a man whose theology is worthy of careful academic investigation. William Roach's assessment of Henry's hermeneutics is both stimulating and illuminating. Readers will find this book to be a well-researched and careful investigation of Henry's theology and a welcome addition to existing scholarship on him."
–R. Albert Mohler, Jr., President of The Southern Baptist Theological Seminary
"During a century when liberal and neo-orthodox theologians were insisting upon non-cognitive and modified cognitive views of propositional revelation; Carl F. H. Henry helped to define and defend the classic evangelical stance of the Bible as cognitive-propositional revelation. During our time serving together on the International Council on Biblical Inerrancy, Henry and the rest of the ICBI leaders sought to clearly articulate the evangelical view and resist all opposing views. However, sadly, in our day, there has been a resurgence of liberal and neo-orthodox theology among evangelical theologians. In his work, Hermeneutics as Epistemology, William Roach evaluates Henry's views and reintroduces him into the current dialogues in hermeneutics. You will find his work to be well-researched, faithful to Henry, and a powerful defense of evangelical bibliology and hermeneutics."
–Norman L. Geisler, Former President of ETS and Co-founder of ICBI
"Carl F. H. Henry was one of evangelicals' premiere thinkers in the latter half of the twentieth century. He guided and shaped the movement as much, if not more so, than any other person, especially in terms of rigorous theological reflection. For him to vanish into the dustbin of history would be a tragic loss for the twenty-first century. A number of scholars have sought to ensure this does not happen. Roach is one such individual. This book is a welcome addition to the growing scholarship on Henry. I am delighted to welcome and commend it."
–Daniel L. Akin, president, Southeastern Baptist Theological Seminary
"Carl Henry's legacy will undoubtedly continue to influence evangelical Christianity in the United States, though the worry arises that future writers may treat him on a rather superficial level. William Roach has given us a book that demonstrates the depth of Henry's thought, and how his understanding of knowledge is thoroughly integrated into his theology. In this book, Roach carefully analyzes, not only the background and method of Henry's epistemology, but also how Henry thereby directly addressed the issues of his day. William Roach rightfully points out how the Christian world of today would benefit by emulating him, not simply by repeating Henry's words, but by letting our understanding of the world also be guided by the fact that knowledge begins with the God who has freely revealed himself."
–Win Corduan, Professor Emeritus of Philosophy and Religion, Taylor University
"William Roach has done Evangelicalism and the wider world of Christendom a great service by reintroducing the incredible combination of keen mind, towering scholarship, and personal piety that was Dr. Carl F. H. Henry to a new generation of Christian scholars. I knew Dr. Henry well and had the privilege of calling him mentor and friend. As I read Hermeneutics as Epistemology, I was reminded yet again of what a magnificent gift to the church Dr. Henry was and how he still gives us crucial guidance and direction in rightly dividing God's inerrant revelation of himself in Holy Scripture."
–Richard Land, President, Southern Evangelical Seminary
"When I was in graduate school and lived in the Washington, D.C. area, I got to know Carl F. H. Henry well and spent time with him and his wife at his house. At the time I lamented that fewer and fewer Christians knew of him and his work. That is why I am thrilled that Roach has written a book on Henry's epistemological approach to hermeneutics. I am grateful for Roach introducing Henry to a new generation and into the current discussions in hermeneutics."
–Kerby Anderson, President of Probe Ministries and Host of the "Point of View" Radio Talk Show
"Roach presents an insightful examination of the philosophical and theological thought of one of the great evangelical thinkers of the twentieth century who has much to say to evangelical hermeneutics today. A well-written and thoroughly researched book that makes a major contribution to a proper understanding of Carl F. H. Henry. Well done."
–Bruce A. Little, Senior Professor of Philosophy at Southeastern Baptist Theological Seminary and Director of the Francis A. Schaeffer Collection
"Roach's assessment of Carl Henry's epistemology is provocative, insightful, and encouraging. In an increasingly confused world that is rapidly jettisoning the historic doctrine of biblical inerrancy (and its myriad implications), Henry's calls for theological consistency are timely for Christians everywhere. No doubt the path forward for evangelicals desiring to remain stalwart in their faith is, in fact, not new at all. Henry, through William Roach's careful study, confidently points us back to that path."
–Cameron D. Armstrong, Church Planter, International Mission Board (Southern Baptist Convention), Bucharest, Romania
"This is a ground-breaking work. Masterfully articulated, the work presents evangelical scholarship at its finest regarding one of the twentieth century's most influential theologians, especially among the Southern Baptist faith. Roach is to be highly-commended in his reasoned, balanced approach toward unpacking Henry's approach to interpretation of the biblical texts. The work should be in every theologian's library and sets the standard for research on Henry for years to come. The work also serves as a growing basis for a needed discussion of a critical hermeneutical issue facing evangelicalism today (i.e. grammatico-historical vs. historical-critical hermeneutics)."
–F. David Farnell, Professor of New Testament, The Masters Seminary, and co-author of The Jesus Quest
The paperback version of this new book can be purchased at Amazon and Wipf & Stock. Kindle version can be purchased here.